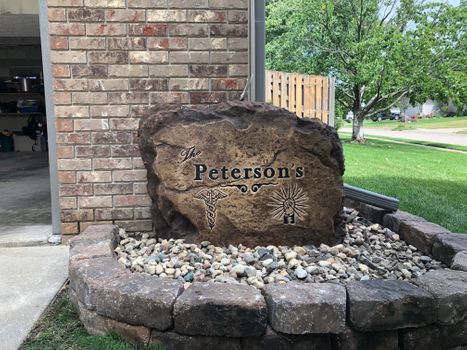 "very professional Installation"
Very happy with our boulder! They are very professional and have great customer service. It was really nice to see actual pictures of our rock before it was ever made so we could see what it would look like in place. Also a very professional installation. He really does great work
-Jason Peterson, Omaha, NE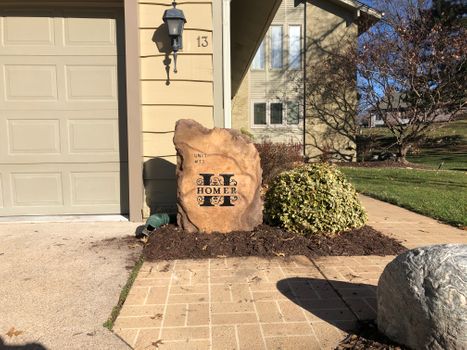 "Beautiful added character to my townhome!"
I came across Boulder Designs by JTM and loved their work for commercial as well as residential and asked if a Boulder/ rock could be designed in a small space in front of my garage. I spoke to Jerry and gave him pictures and specifics of where I wanted it. Jerry came back with two designs and how it might look in that space . WOW was I impressed with both designs and was very hard to choose because both complimented the color of my garage /town home and the added extra touch of the unit number is a double help for everyone to find me when in our subdivision . The Boulder/rock sits proudly in front of my town home/ garage with my namesake and not only do I love it :) but a lot of my neighbors do as well ! Thank You Jerry for giving beautiful added character to my townhome!
-Vera Homer, Lincoln, NE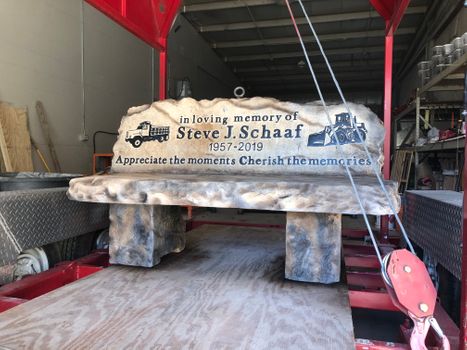 "Excellent customer service!"
I had been checking into a couple different options for a bench... I was not happy with anyone that I had talked to. They didn't seem to want to sell a bench to bad. They didn't take much time to talk with me. It was totally different with Jerry. We started talking and he got me different bench options and what we could put on it! It was so easy to talk with him and I felt like he wanted to help me! I was excited to work on the memorial bench for my dad. I live 3.5 hours away and Jerry made it so easy to handle it all. He sent picture while working on it and made it super easy to get it here! I can't say enough about the excellent customer service I have received. I love the bench so much I have ordered a second one!!!
- Trista Schaaf, Atkinson, NE
"Boulder Designs® came to our rescue"
"Boulder Designs® came to our rescue and eliminated all our work and worry. We were so impressed with their creativity of design and the computer graphics which allowed us to see exactly how the finished product would appear."
- Roger and Alverta Darding Charleston, Illinois
"I would highly recommend to anyone! "
"In our business, communication is one of the many keys to a successful project. Paul Curtsinger and his team bring both to every job. We have worked with Paul since 2004 and have always been very pleased with their quality of service and professional attitude that they bring to each and every job."
- Michael Cadden, Promaster Contracting, Graham, NC
"I want to tell you how much Louis and I appreciate your business and professionalism."
"I have never worked with any service company who responded so quickly and efficiently to all of our needs. We shared our vision and passion with you, you then listened and executed exactly what we wanting!"
- Louis and Peggy Heuser, Graham, NC
"We love our new boulder!"
"We love it, and nearly everyone who sees it compliments us on it! It was a cost effective way to put up a very professional sign that should last virtually forever."
- Mark Newhall, Farm Show Magazine